Bella
Female
Boston
Lesbian
OCD
ASD
American
INTJ
Capricorn
I am sweet like ice cream but crazy like chili peppers! (except I hate peppers)




I'm not a people person IRL. I am quite the introvert, but if I like you and I am in the mood I will talk for 15 fucking hours straight!

FUN FACTS:

I can twitch my ankle bone!
I have OCD
I am an only child
I can touch my tongue to my nose
I can cross my eyes very well
I love to shop!
| | |
| --- | --- |
| | I am a sensitive person and I always try to be kind to others. I don't mind a good debate but I always try to end talking with people off on a positive note. |

I love music! Some of my favorite artists include Avril Lavigne, The Birthday Massacre, Britney Spears, Dead Kennedys, Eminem, Flyleaf, Good Charlotte, Hole, Jack off Jill, Joy Division, KMFDM, Liz Phair, Mindless Self Indulgence, Night Club, No Doubt, Otep, Poppy, Red Hot Chili Peppers, The Smashing Pumpkins, The Smiths, t.A.T.u, The White Stripes, Vanessa Carlton







I also love movies, especially crime and horror films! My favorite films include natural born killers, god bless america, the rampage trilogy, fight club, scream, girl interrupted, heathers, jawbreaker, taxi driver, speak, the virgin suicides


things I like to collect include stuffed animals, CD'S, and dolls!
My favorite foods are....
Italian Food (especially pizza, bolognese, and gnocchi!)
Chicken nuggets
Bread
Roast beef
Steak
Scallion pancakes
As for sweets...
Chocolate cake
Basically anything chocolate for that matter
Ice cream cake
Anything birthday cake, cake batter, or cookie dough flavored
Snacks...
Soft cheese
Salt and vinegar chips
MY FAVORITE YTBERS!!!

thrifting
animals
horror
watching youtube
coding
research
listening to music
gyaru and mall goth subcultures
traveling
aesthetics: mall goth, kinderwhore, liminal space, gyaru, nostalgiacore, trashy y2k, grunge
animals: cats, penguins, monkeys, pandas, and above all else my dog marcel :)
TV: 9-1-1, South park, bobs burgers
colors: pink, purple, white, green, yellow, rose gold
drinks: diet coke, oreo mocha frappe, mcdonald's root beer, mountain dew, strawberry lemonade, sprite, shirley temple, fruit punch
music genres: Nu metal, permanent wave, industrial, candy pop, steampunk, lilith, grunge, rap, punk, art pop, rap metal, funk, riot grrl, electronic metal, electronic indie, pixie, christian, piano rock, indie, R&b, gothic metal, emo
people: Christine Chubbuck, Rachel Scott
hobbies: sleeping, thrifting, baking, digital design, collecting things, coding, horseback riding
other things: old web, history, fashion, politics, odd numbers, anything girly, hello kitty
Things I don't like / hate include
food: Cooked tomatoes, peppers (EW), cheddar, most fruit
Music: Coldplay, the chainsmokers, halsey, drake, post malone, mgk, jack harlow, gayle, camila cabello, maroon 5, fifth harmony, ava max, dua lipa, NEW eminem, imagine dragons, any new EDM pop
Things in general: Tumblr, school, homophobes racists and sexists, science fiction, liberalism (aka fake leftist moderates).
Hello
My name is
Bella
I am
animal lover, autistic, caring, cat lover, daughter, dog lover, female, feminist, friendly, gender abolitionist, girl, glittery, intelligent, introvert, Lolita, leftist, lesbigay, libertarian, lipstick lesbian, loving, Miss, obsessed, open, passionate, pro-choice, quiet, Socialist, sassy, sensitive, spiritual, suicidal, sweet, virgin, weird, XX
you are olive
#808000
Your dominant hues are red and green, so you're definately not afraid to get in and stir things up. You have no time for most people's concerns, you'd rather analyze with your head than be held back by some random "gut feeling".

Your saturation level is very high - you are all about getting things done. The world may think you work too hard but you have a lot to show for it, and it keeps you going. You shouldn't be afraid to lead people, because if you're doing it, it'll be done right.

Your outlook on life can be bright or dark, depending on the situation. You are flexible and see things objectively.
the spacefem.com html color quiz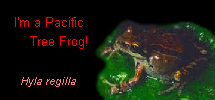 Pacific Tree Frogs like to eat a variety of bugs, including crickets, flies and spiders, though they aren't fond of larger beetles that can bite their lips. Courting males have a high pitched ribbit that is often heard as the classic Hollywood "woods at night" sound effect. Pacific Tree Frogs tend not to climb as much or high as most tree frogs, usually not going more than two feet up into vegetation.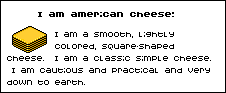 Cheese Test: What type of cheese are you? Take the quiz: "Which Weapon Are You?"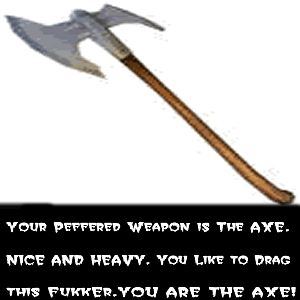 Axe
Your Perffered Weapon is the Axe! Nice and Heavy. You Like to Drag this Fukker! YOU ARE THE AXE!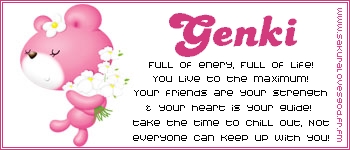 Take the Japanese word quiz!

Who Are You In The Mane 6?
Hosted By theOtaku.com: Anime
Dolores O'Riordan
You're a very serious and quiet person, with a well-developed internal monologue. You examine everything that happens in your life, and are deeply affected by the problems of those around you. You are able to romanticize and appreciate the little things in life.
Want your own? Visit hekate.neocities.org!
The Dante's Inferno Test has sent you to the First Level of Hell - Limbo!
Here is how you matched up against all the levels:
Take the Dante Inferno Hell Test

Which Rainbow Brite kid are you? By
Growing.
See what drug you are.

You're Mandy Moore! You're very sweet and caring. You're also kind of modest, and shy too. You're not exactly at the top, but you're not at the bottom either. Which is alright with you, because you're not taking life's gifts for granted. Aw, you're just the perfect little girl! Polite, gentle, trusting, and have this sickeningly sweet aura that just makes you so darn lovable. But best beware, for your trusting nature can lead to pain as well.
What Kind of Pop Princess Are You? Quiz by Jonah
You Are 0% Normal (As Weird as They Come)
Are you from outer space? Because you're hardly human. Where people go right, you go left. And you have little in common with anyone... Except other freaks of natures :-)


Take the What Fruit Are You? test by Ellen!
What dessert are you? Find out @ star-girl.org!
Find out what flavour ice cream you are @ star-girl.org!
Find out which Barbie you are at star-girl.org!

Find out which South Park Character you are @ star-girl.org!

I taste like Bread.

I am a staple in almost everyone's diet. Friends like me are a complement to any other friends I get on with almost everyone, remaining mostly in the background, but providing substance when it would otherwise be lacking. What Flavour Are You?

Are you NASTY or NICE?
Quiz made by Angela
see my politics!
Age: 15
Favorite color: Pink
Astrological sign: Capricorn
Kids: 0
Marital Status: Single
Home: USA
Favorite song: Nevermind by the birthday massacre
Favorite Show: South Park
Favorite Food: Pasta
Motto: Fuck motto's
Family: Only Child
More useless info about myself....(personality survey)
-- Body --
1. What do you most like about your body?: my eyes
2. And least?: thighs
3. How many fillings do you have?: 0
4. Do you think you're good-looking?: Yes
5. Do other people often tell you that you're good-looking?:
sometimes
6. Do you look like a celebrity?: I don't think so

-- Fashion --
1. Do you wear a watch?:
no
2. How many coats/jackets do you own?: Too many to count
3. Favorite pants/skirt color?: pink, black, or yellow
4. Most expensive item of clothing?: IDK
5. What kind of shoes do you wear?: boots and sneakers
6. Describe your style in one word: Cute

-- Your Friends --
1. Do your friends know you?: no
2. What do they tend to be like?: online
3. Are there traits in you that are universally liked?: empathy
4. How many people do you tell everything to?: none

-- Music/TV/Film/Books --
1. Favorite band ever?: The birthday massacre
2. Most-listened-to bands: the birthday massacre, the smashing pumpkins, hole, mindless self indulgence, jack off jill, tatu, night club, kmfdm, angelspit, dead kennedys, korn
3. Do you find any musicians good-looking?: lily allen, vanessa carlton, britney spears, avril lavigne
4. Can you play an instrument?: Piano
5. Type of music most listened to: Industrial, gothic electronic, nu metal, permanent wave, grunge, rap, funk
6. Type of music least listened to: folk or country
7. Favorite book: catcher in the rye

-- Underwear --
1. Do you wear thongs?: no
2. What is the nicest color for underwear?: red
3. Do you find it uncomfortable without a bra?: yes
4. Do you make it a habit of showing people your underwear?: no

-- Religion --
1. Do you detest religion?: no
2. How do you think this universe was formed?: big bang
3. If you currently follow a religion, do you think people of other religions are ignorant?
no
4. If you were in a hostage situation, and you were given a choice to either praise the demon they follow or die, what would you choose?:
praise the demon

-- Homosexuality --
1. What is the first thing you think of when you see two gay guys or lesbians holding hands?: Happy
2. Do you detest homosexuality?: No
3. Do you agree/disagree with gay/lesbian couples bringing up children?:
Not at all

-- General Questions --
1. Who do you believe is the smartest man alive at the moment?: IDK
2. What do you prefer, a sunny or rainy day?: Rainy
3. Do you consider yourself lucky?: Yes
4. Do you feel pity for those who commit suicide?:
No I admire them
5. Choose one word to describe how you feel most often: Lonely
Another Survey Thing-a-ma-bob...
4 CD's you never get tired of:

1. Flyleaf by Flyleaf
2. Tragic kingdom by No Doubt
3. Cry Baby by Melanie Martinez
4. Celebrity Skin by Hole

4 Places you have to go:

1. Tokyo
2. Germany
3. Israel
4. Russia

4 things you'd like to learn:

1. how to whistle
2. blowing bubbles
3. to code better
4. gymnastics

4 Beverages you drink regularly

1. Water
2. Mountain dew
3. Sprite
4. Fruit punch

4 TV shows on when you were a kid

1. Word girl
2. Syd the science kids
3. Yo gabba gabba
4. MLP

4 TV shows you watch now

1. South park
2. 9-1-1
3. TLC shows
4. Bob's Burgers

4 Places to Go in Your Area

1. 7/11
2. Library
3. Graveyard
4. Movies

4 things to do when you are bored

1. Coding
2. Go on walks
3. Listen to music
4. Watch YouTube

4 Things that never fail to cheer you up

1. my dog
2. music
3. talking to my mom
4. watching funny videos

4 Dream Guys

1. none
2. none
3. none
4. none
And yet another...
1. What's your name: Bella
2. What do you wish your name was, instead: Nothing
3. How are you: Pessimist
4. Would you ever eat sushi?: No
5. Would you ever eat sushi off a naked body?: Hell no
6. Have you considered homosexuality?: yes
7. What's your sexual preference?: Homosexual
8. What were you in a past life?: I don't believe in that
9. I punch you. Quick, what do you do?: Scream at you and chase you
10. When confronted with Britney Spears, you...?: Have a conversation with her
11. What's your favorite coffee?: Cookie crumble mocha frappe
12. What's your political perspective?: Libertarian left leaning
13. Are you my Angel?: Doubt it
14. Do you consider yourself a poet?: Yes
15. What do you wanna be when you grow up?: Nurse
16. There's a naked man in your living room. What do you do?: kill him
17. How stupid do you think you are?: I think I am smarter than most people
18. How stupid do other people think you are?: Average
19. Who the hell do you think you are?: The best BITCH
20. Is the Wonderbra good or bad?: ?
22. What's your favorite fruit?: Frozen
23. Can you feel the love tonight?: Nah
24. On a nude beach, you would...?: Leave
25. Make up a story with yourself, a bridge, and a rabbit: I'm walking with a rabbit across a bridge
26. What do you think about contemporary art?: It's cool
27. Do you like being naked?: No
28. If we had proof god didn't exist, what would happen?: Maybe people would shut the fuck up more ;)
29. Do you enjoy cheeze whiz?: ?
30. What's your position on virginity?: It's perfectly fine and totally okay
31. On civil unions: Support
32. On RuPaul: Gross
33. On mosquito bites: They suck
34. On bad sitcoms: I don't watch them
35. On Fran Drescher: ?
36. Are you left handed or right handed?: right
37. Are you smart?: Yes
38. What's your middle name?: Gray
39. How many personalities do you have?: Like 3
40. How many piercing do you have?: 2
41. What was your first word?: no
42. Are you superstitious?: yes
43. Do you read your horoscope?: No
44. Do you believe in that stuff?:No
45. Can you do a cartwheel?: yes
46. Do you have contact lenses?: No
47. Do you have a retainer or braces?: Used to
48. Can you drive?: Not yet
49. Do you snore?: Depends
50. Do you drool in your sleep?: Yes
51.Do you lick your envelopes or use a sponge?: Lick
52. Do you keep a journal?: No
53. Do you like onions?: No
54. Do you like cotton candy?: Yes
55. What instruments can you play?: piano
56. Do you like to dance?: Yes
57. Do you like to sing?: Yes
58. Are you any good at it?: No
59. Do you like to talk on the phone?: No
60. Do you like where you live?: No
61. Are you organized?: Not really
62. Do you sleep with socks on?: Yes
63. Are you shy?: Yes
64. Do you talk to yourself?: Yes
65. Are you a morning person?: Not really
66. Are you a virgin?: yes
67. Are you proud of that?: kind of
68. Do you believe in reincarnation?: no
69. Do you believe in God?: Yes
70. Do you believe in ghosts?: Yes
71. Do you believe in bigfoot?: Yes
72. How old do you wish you were?: This age is fine
73. What will you name your daughter?: Noelle
74. Son?: Winston or Kyle
75. Have you ever thought you were gonna die?: No
76. Where do you wanna go?: To bed